Remodeling & Building with Design Build Firms.
Do you need a design-build firm?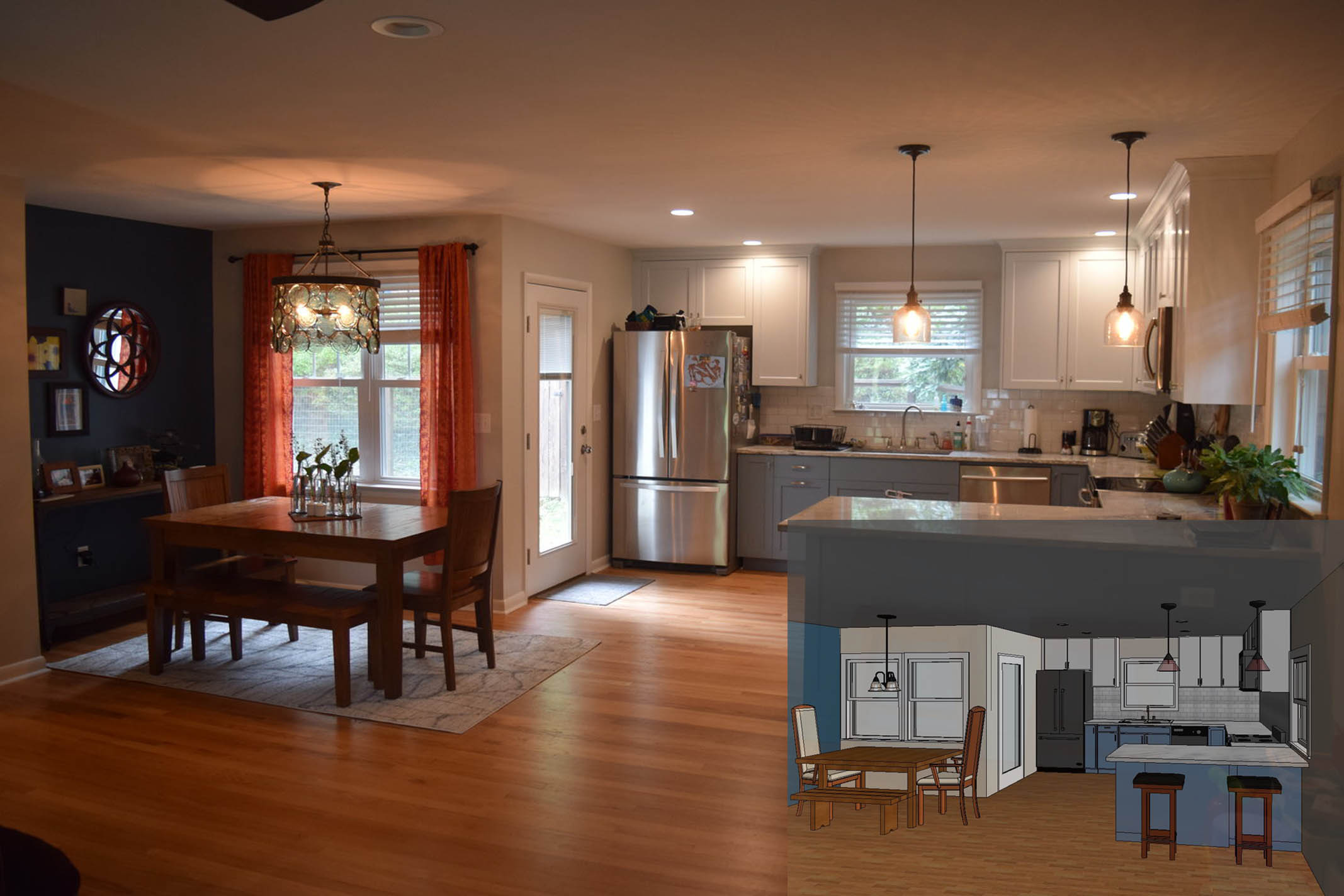 "Example of a finished kitchen addition along with the final design before construction started."
Although there are a lot of objectives that homeowners are looking to achieve, quality of the project should be one of the most coveted qualities for a project. Because of this, it can be useful to have a design-build firm that can give attention throughout the entire process even the smallest details. With a team of multiple people, design-build firms can provide and achieve those personal touches that clients are looking for in the home project.
The true advantage of Design-Build
A true design-build firm is focused on making design the first step in the home project process for one reason. It sets the foundation and communication for the future project entirely. Poor design and management can lead to a plethora issues that can delay and cost more money in the long run for homeowners. Avoid these fees and have an established architect seek out issues or trouble areas, and allow them to communicate in-house to allow for ideas and solutions to be solved in a more timely and effective manner. This is just one of the major advantages and reasons a design-build firm can be more efficient and valued. Some others include:
Faster Delivery
Source: Construction Industry Institute / Penn State research paper regarding a comparison of United States Project Delivery Systems. (https://www.engr.psu.edu/ae/cic/publications/TechReports/TR_038_Konchar_Comparison_of_US_Proj_Del_Systems.pdf)
When working with a design-build firm, the entire process from the initial sketches to the final product is streamlined by having two operations being executed within the same building. Using the skill sets of builders and architectures, ideas can be tossed around and advice offered on how to approach certain situations. These ideas are usually discussed between both the designers and builders in one building. This constant communication also builds integrity and sets a standard for both the builders and the designers which results in more quality and consistent work. With this type of planning and knowledge available before even the first part of the building is done, projects tend to be more thought out and in doing so, decrease the time of the build or remodel. This is confirmed in a peer reviewed paper published by the American Society of Civil Engineers. This paper determined that Design-Build projects are completed up to 33% faster than traditional approaches.
All in all, the faster delivery provides clients with a more streamlined process allowing our crew to use their time in your house as efficiently as possible. In the long term, this could be multiple days of dead communication between an independent contractor and designer, as they struggle to understand or interpret how the final vision of this project should look. Not only is this inefficient but as a homeowner can be incredibly frustrating considering you are the one responsible for facilitating the work if it gets to the point of standstill. At this point, both the designer and contractor are frustrated and not focused on the end goal, possibly resulting in a below standard quality project.
Project Management
As stated above, the client should not have to facilitate conversation between the designers and builders when independent parties start to get confused or slowed down. As such, most design-build firms have a project manager that oversees the entire process of a home project. These project managers are invaluable because of the all-around expertise they have in building and design work. In general terms, project managers are the bridge between the boots on the ground and the big picture eyes and minds in the design studio. And with these highly qualified individuals, you have a much smoother process and individual in charge of one thing, making sure the next step in your home project is planned well ahead of time and has planned for any issues that would arise because of the direct communication with the architects.
Many construction companies use a lead worker or builder on the job, but make sure when doing your research that the company operates as project managers. You want these individuals to not just be overseeing the work on the site, but that they are in constant communication with the designers and have the same vision of the project.
Better Value Prices & One Contract
"The Design-Build project delivery method was found to provide cost savings and reduced project schedules when compared to conventional design-bid-build methods…"
-Gordon Culp (Smith Culp Consulting)
For most home remodeling or builds, a contractor requires plans or prints. These designs can be bought from an architectural design firm that will charge you higher for their service individually. The contractors usually do this as well, because they are not using the most efficient route for their business and have to cover themselves for extra work that may need to be done in regards to ineffective communication. This is a common issue for clients when quoted by a design-build firm. Usually, the firm will come in higher than most construction companies per square foot, but this is due to the fact that this includes the design and project management services. Therefore, even with the increase in price, the client is receiving much more value in their project than the standard home remodeling or build client.
Another value regarding pricing is the simplicity of the contract. Instead of wasting time and money to find the perfect designer and construction company, one company can make an offer with everything included, allowing you to not worry about communication or getting charged extra fees by two different companies. This also includes one company taking the entire responsibility of the project and makes more people invested in your project from start to finish. When working with two independent companies, neither one assumes full responsibility for the client's final product. This can result in haphazard work and quality in your product if you make the wrong decision regarding the designer of the contractor. With a design-build firm, one product is offered and the end goal is the client's satisfaction and quality of the product all while having a project manager lead and communicate effectively with all sides.
Overview
All in all, Design-Build firms do provide many advantages over a standard construction company. Even though the price for your home project may come in higher than other firms, the prices tend to be even if not under the final price after all the fees and work hiccups from two separate companies in the end. Instead of being inefficient and risking possible issues in the long term, we recommend finding a design-build that can guide you and do the work correctly the first time.